For Specific Ailments
We have a set of unique treatment protocols for spinal disorders (Neck Pain, Low Back Pain, Disc Prolapse etc.)
Special Treatments for:-
Arthritis.
Osteo Arthritis Knee
Osteoporosis
Rheumatoid Arthritis
Spinal disorders(Neck Pain, Low Back Pain, Disc Prolapse etc.)
Sciatica
Frozen Shoulder
Obesity
Diabetes
Migraine
Avascular Necrosis of Femur Head
Respiratory Allergic Diseases
Pre Natal and Post Natal Care
Kerala Special Treatments
Start the healing process.
A speciality of kerala ayurvedic system which are indicated in most distressing diseases and in rejuvenation therapy. Our Hospital offers the following authentic Ayurvedic treatments.
Massage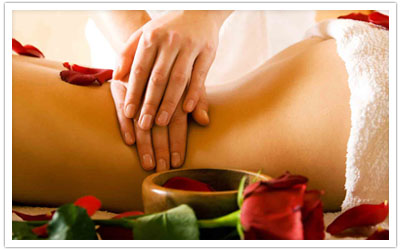 Udwartanam (Powder Massage)
Deep dry massage with herbal powder, it reduces obesity, improves mobility of the joints, strengthens muscles and refreshes the body.
Abhyangam (Oil Massage)
The whole body is massaged with medicated oil. Improves blood circulation, vitality, and the texture of the skin.
Kizhy (Bolus Bag Massages)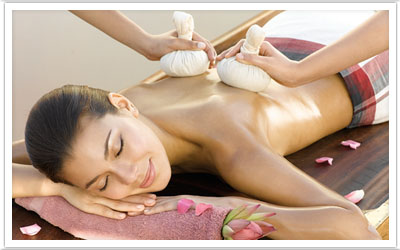 Elakkizhy
The body is massaged with small linen bags filled with herbal leaves.
Podikkizhy
The body is massaged with small linen bags filled with herbal powder.
Njavarakkizhy
The body is massaged with linen bags filled Medicated Rice (Shashtika) cooked in milk and a herbal decoction. Kerala's unique contribution to Ayurveda. Develops the muscular system, corrects nervous disorders.
Dhara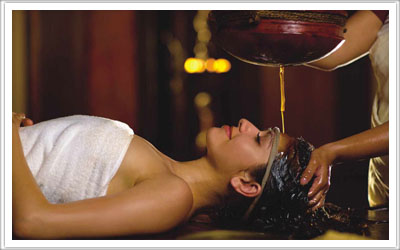 Sirodhara
This is a process by which medicated warm oil/medicated milk/herbal decoctions/butter milk is poured in a continuous stream over the forehead in a specific manner. It is indicated in diseases of head, insomnia, memory loss, Paraplegia, lack of vitality etc.
Sarvanga Dhara
Using warm oil/Herbal decoctions/Medicated Milk/Danyamlam.
Pizhichil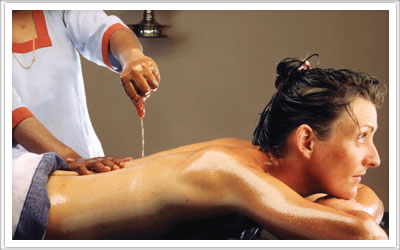 Full body oil stream treatment, Warm medicated oil is poured all over the body, followed by a gentle massage. It is used in the treatment of various neurological diseases, Rheumatic disorders, for rejuvenation, for preventing ageing process.
Swedanam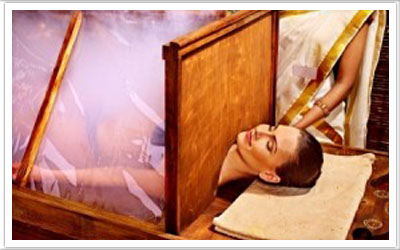 Its nothing but Steam Bath. The therapy is done after all therapies to drive the herbal oil deeper into the layers of the skin, and remove toxins through sweating.
Makes Your Skin Healthy
Relieves you of general body aches
Improves blood circulation
Helps you in reducing weight
Drains toxins from deep tissues
Panchakarma Therapy
Five elimination therapies in Ayurveda are known as Panchakarma, a special cleansing and purifying treatment. Is the essence of Ayurvedic treatment. It became popular due to the magical results it can bring even in incurable diseases.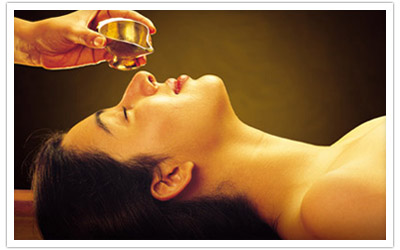 Vamanam
Medicated emesis.
Virechanam
Medicated Purgation.
Nasyam
Nasal medication.
Vasthy
Most important procedure in Panchakarma:
Kashayavasthy: - Medicated Enema therapy
Sneha Vasthy
Rakthamoksham
Blood letting.
We have special treatments for
Paralysis
Rheumatic Complaints
Arthritis
Spondylosis
IVDP
Diabetes
Migraine
Knee Problems
Treatment Procedure
The Treatment includes individualized diet- life style recommendations , administration of quality herbal medicines authentic Panchakarma therapy and Kerala special treatments.
1.Treatment is decided only after consultation with physcians and the patient should follow their instructions.
2.All these special treatments are being carried out under the supervision of the physicians in our Hospital.
You will find that your body, mind and spirit are truly purified and energised!
Medicines
In Sreepathy Ayurvedics; manufacturing division of Sreepathy Ayurveda Hospital, medicines are manufactured according to the ancient Ayurvedic scriptures. All the authentic Ayurvedic medicines including Kashayam, Arishtam, Thailam, Kuzhambu, Choornam, Lehyam Ghrutham etc are prepared here with utmost care.